The inaugural 2019 freaQweek cohort is comprised of students who share a multitude of interests and talents! Sharing a collective passion for LGBTQIA+ advocacy, we strive to create an event that connects our campus community, and engages us in understanding our identities.
Sarah is a 5th year art student with an emphasis in photography. She will graduate in May with two certificates in Fine Arts Administration and Women's, Gender, and Sexuality Studies. After attending a Global Feminisms Program in India…life shifted, priorities revealed themselves, and Sarah's child, Cove Collective, was born: a free arts & social justice organization (@eauclairecove on facebook and instagram). Sarah is also busy with a student-faculty research collaboration doing curating, administrating, and design work for a national exhibit at the Foster Gallery called Midwest Queeritivities. Sarah likes dancing, dreaming, reading, watching, and capturing. Keep an eye out for her documentary coming out in May. Check out her portfolio here!
Pronouns: She/Her/Hers They/Them/Theirs
Picture this: This photo was taken at my first Pride, where I danced and celebrated the day with my new family and my new found acceptance for myself.
Katrina Kawak is a fourth year ENPH major and Chemistry minor with a certificate in Women's Gender and Sexuality. Through her years at UWEC, she has taken an interest in developing environmental problem-solving techniques and furthering her knowledge on women's gender activism. Katrina likes to keep busy by getting involved in a variety of groups on-campus. Currently, she is involved in research looking into behavioral consumption and is a part of the PRIDE e-board team. Katrina is an intern at the Housing Office of Sustainability advising the SEED (student encouraging environmental deeds) program, as well as an intern with the Gender Sexuality Resource Center (GRSC). Katrina was born and raised in Eau Claire, Wisconsin and in her free time she loves hiking, eating food, and binge-watching Netflix. She's excited to connect with students during freaQweek to discuss queer cinema.
Pronouns: She/Her/Hers
Picture this: This photo was taken on our last night in San Francisco by Sarah Jo Ferraro. A group of us decided to walk to a park that overlooked the entire city. On the walk there, I could smell my favorite flowers and decided to launch myself at them.
Meet Casper Crump. Casper is a sophomore whose dedication to inclusivity and freedom of expression has led him to become an English Education major with a creative writing minor and an in-progress American Sign Language certificate. In addition to having a passion for writing, Casper is very involved in music, including but not limited to playing trombone in our Blugold Marching Band and singing in the on-campus a capella ensemble, Fifth Element. In his free time, Casper is an avid writer, particularly fond of writing poetry--which he hopes to someday get published! He is excited to use the freaQweek celebration to bring even more diversity to campus, as well as to have the ability to interact with all different kinds of people and hear their unique stories.
Pronouns: He/Him/His
Picture this: A friend from the cohort took this photo of me just before the beginning of the San Francisco Trans March. It's a rare photo of me actually smiling my biggest smile! I chose this photo because of the impact the Trans March had on me - it reminded me that there is no one way to be queer - the only right way to be queer is to be happy and authentically yourself.
Meet Aja St. Germaine, a second-year student passionate about communication in human rights, focusing on LGBTQ+ activism. Being a Critical Studies English and Women's Gender and Sexuality Studies double major means that she's always busy, but very happy in the work she does! Growing up in Eau Claire, she takes local politics seriously and is pleased to see how far they've progressed regarding LGBTQ+ issues in recent years. Her dedication to queer people has led her to become a highly invested Gender and Sexuality Resource Center Intern, and her passion, dedication, and strong mindedness is key to her success. When she's not on campus, she is often hammocking, feeding the ducks, or spending too much money on Rock and Roll records. Aja is most excited about the ways that freaQweek will allow queer people to express themselves without their entire identities being surrounded by their sexuality, such as through music and film.
Pronouns: She/Her/Hers They/Them/Theirs
Picture this: last night in San Francisco, the girl gang, climbing, to a super high peak overlooking SF. Looking over most of the city, reflecting on all the ways we have grown, I just got stupid happy. Like extremely incredibly happy with my good friends right there with me.
Hey everyone! Meet Sophia Spittlemeister! She is a third-year student at the University of Wisconsin-Eau Claire and studies finance, the German language and culture, and leadership. After graduation, she aspires to become a financial manager for a large corporation in a big city. Outside of her classes, she finds herself spending time on campus as a Student Senator, Campus Ambassador, the Social Media Director of PRIDE, and the Business Manager for The Spectator, UWEC's on campus newspaper. When she's not in class or at an org meeting, she is writing poetry, going to concerts, drinking coffee, and running around Eau Claire! Sophia has many driving factors for her involvement in freaQweek, some of which include educating her peers and the community about the LGBTQIA+ community, and becoming more involved within her own community. Sophia is very excited to be a part of this experience and hopes to see you at freaQweek!
Pronouns: She/Her/Hers
Picture this: This is a live action shot of Sophia enjoying the nature outside of the condo that the cohort stayed in San Francisco. This picture has significance to Sophia because the condo was the starting ground of her new friendships with amazing people.
Brandon Wegner is a UWEC sophomore with a focus on clinical social work and French. His passion for service and positive cultural change is proven by his work history and volunteerism, receiving the Congressional Leadership in Service Award in 2015. He returned to Wisconsin this past year to further his studies after spending the last five years working both domestically and internationally in crisis intervention and disaster relief. Brandon has been an advocate for LGBTQA+ individuals his entire adult life. He worked as a LGBTQ+ volunteer with the Trevor Project speaking with youth in crisis, toured the Midwest with the Coming Out Experience as a guest speaker at community colleges and universities, and started an ongoing men's support group in Eau Claire. He has intentions to work with queer peoples following his studies by opening a private practice doing individual and group therapy specific to self-worth, acceptance, thriving after childhood trauma, deconstructing gender roles and navigating and understanding sexual impulses. Brandon most looks forward to seeing the history of queer people first hand through not only, but through walking the same streets in the Castro as so many foundational leaders in the LGBTQ+ movement have before him.
Pronouns: He/Him/His
Picture This: This photo was taken in downtown San Francisco during the 2019 Pride parade. Due to the thousands of people swarming the streets, I was standing about ten feet from the rest of the group trying to see some marchers. The wonderful Sarah captured this picture and I absolutely fell in love with it!
Matthew Breunig is a 3rd year student. Growing up near Madison, inviting homeless people to his birthday parties was uniquely common. His passion for helping underprivileged groups never diminished and caused him to pursue a major in Psychology with a minor in American Indian Studies and a certificate in LGBTQ+ Studies. Prior to dedicating his time to the freaQweek program, he volunteered his time at the Boy's and Girl's Club of America through the Biology Club as its community outreach coordinator. When Matthew is not studying or reading for classes, he can typically be spotted playing board games with his friends or dancing along to whatever new song he discovered that week. While challenging himself to expand his creative abilities, Matthew is excited to put all of his energy into the program and into helping make freaQweek run as smoothly as possible.
Pronouns: He/Him/His
Picture this: Right next to the Castro theater there is a place that sells fresh cookies and underwear called Hot Cookie. Apparently when people buy their underwear they can give the store their picture to hang up. When I went there for the last time, I impulsively asked someone to take my picture in front of one of their walls.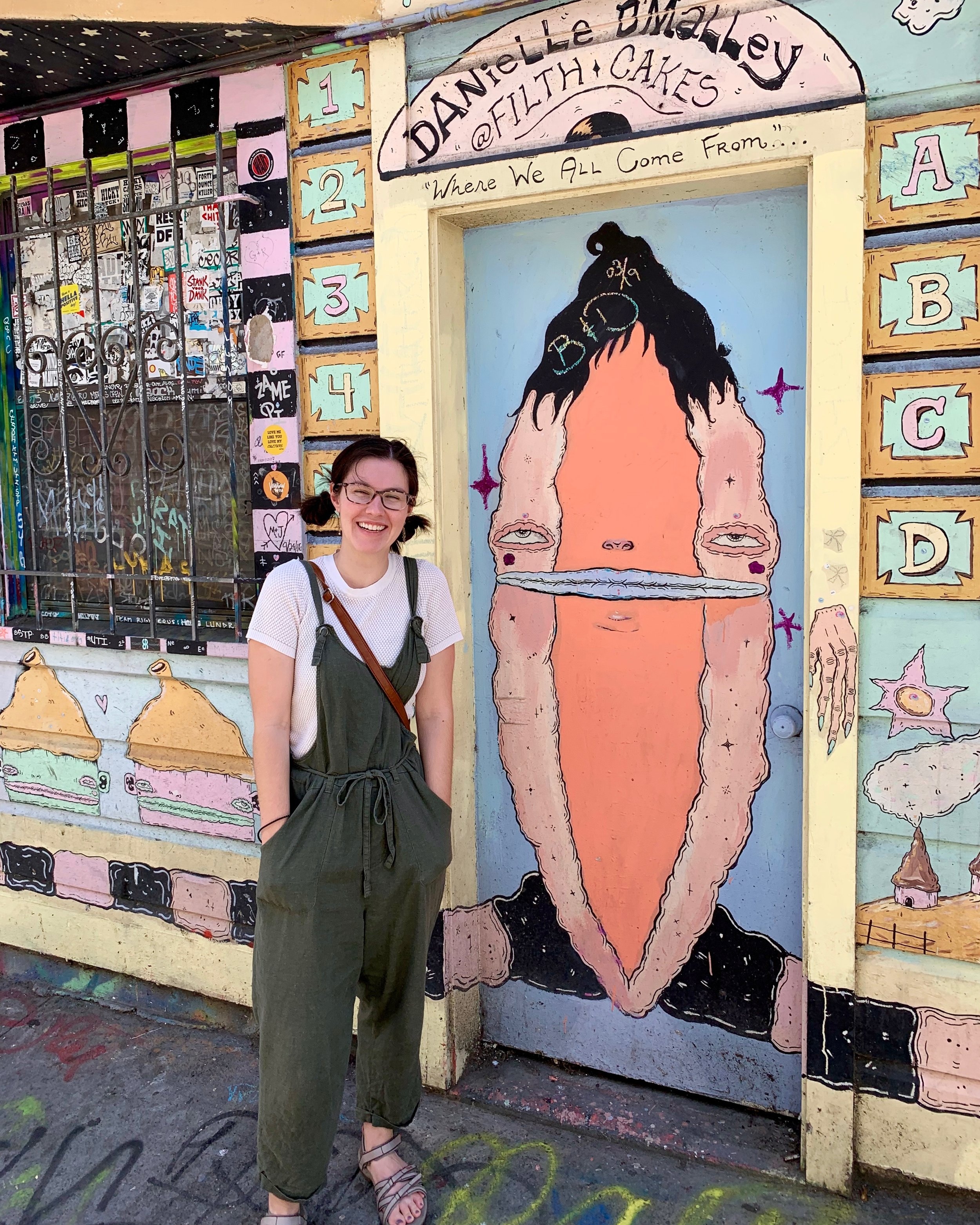 Senior Student Programmer
Meet Amelia Montie. As a 4th year student, Amelia has grown to develop a strong passion for collaboratively supporting the queer community within Eau Claire. Her love for humanistic, data driven advocacy has led her to pursue a dual degree in Sociology and Information Systems, with a certificate in LGBTQ+ Studies. On campus, Amelia has been highly involved in student-faculty collaborative research, as a programmer for the Eau Queer Film Festival, and as an intern for the Gender & Sexuality Resource Center (GSRC)!
Born and raised in the Twin Cities, Amelia may be spotted exploring the city on her bike, gardening in the early mornings, or jamming out to the music of local artists at First Ave. In her spare moments, she enjoys indulging her addiction of perusing homes on online real estate websites and avidly reading yelp reviews. Amelia is invigorated by the creative space that is afforded by developing new programming, such as freaQweek, and is excited for the discussions that boldly emerge from student-curated queer content.
Pronouns: She/Her/Hers
Picture this: This photo highlights the Mission District's Clarion Alley Mural Project (CAMP), which uses murals as a means for "supporting political, economic and social justice messaging". I love seeing the continued transformation of the alley; recognizing the subjects of the murals shift with the current political landscape, while acting as a vehicle for addressing social change.
Senior Student Programmer
Annie Titus is a 5th year student who will graduate in May 2020. She has been active in the LGBTQIA+ community during her entire time at UWEC with the annual fall film festival as one of the top highlights of the school year. As a non-traditional student, she began her studies at UWEC after a career-ending injury she received while performing her duties as a driver for the Walmart Private Fleet.
She is an English Rhetorics major with a Communications Multimedia minor. She also works for LTS Media as a videographer and editor for campus projects. She is an avid writer, photographer, and budding filmmaker.
This past semester, Annie focused on conceptualizing a documentary surrounding the welcoming campus UWEC is known for, interviewing many of the key players, editing and assembling a film titled "Queering Campus." She hopes that students, faculty, and staff can appreciate the efforts, and gain insight into the work done on this campus to receive recognition as the #1 LGBTQIA+ friendly campus in Wisconsin, and #3 in the US.
Pronouns: She/Her/Hers
Picture this: The red/white line provides bay tours looping around Alcatraz Island turning around under the Golden Gate Bridge. The boat ride is a staple of the San Fransisco experience and day two in the Bay Area. Because the Golden Gate Bridge is a symbol of the greater San Fran area, it was an easy decision to use a photo that represented the greater area.
Community Outreach Liaison
Meet Joe Luginbill. As a leader in the public and private sectors, Joe has been an unapologetic fighter for children and families. His advocacy has taken him to farm fields as a migrant family case manager and to local courtrooms as a caseworker for children in foster care. Joe's nonprofit and business ventures also have a shared focus on enhancing the lives of youth. As the youngest and first openly gay member of the Eau Claire Area School Board, Joe has ushered through many historic policy reforms for the queer community including nondiscrimination protections for transgender students and staff, an LGBTQ studies curriculum, and a citywide ban of 'conversion therapy.' In his personal life, Joe loves cooking, watercolor painting, and enjoying the beautiful trails of Eau Claire. He looks forward to *literally* walking in the footsteps of Harvey Milk on Castro Street, and bringing more queer storytelling back to Eau Claire.
Pronouns: He/Him/His
Picture this: Here I am standing outside the Castro Theatre on the opening evening of Frameline. I found the Castro district to be filled with history, excitement, and diverse expression. I loved every minute!
Meet Kallie Friede. As the Associate Director of freaQweek and the Associate Student Services Coordinator in the Gender & Sexuality Resource Center, Kallie's passion lies in intersectional advocacy and programming in higher education. She finds freaQweek to be a particularly important program as you can highlight so many voices that are often rendered silent through the medium of film. Through LGBTQIA+ film, you inevitably learn about the experiences of people of color, people with disabilities, undocumented people, refugees, and a myriad of other lived experiences. She finds film to be an approachable way to address contemporary issues, highlight the achievements of the Queer community, and operationalize the important work of intersectionality.
Kallie comes to Eau Claire by way of River Falls, Wisconsin. After completing her undergrad at UW-Eau Claire in Women's, Gender & Sexuality Studies, as well as Public Relations, Kallie jumped right into a Master's Program in Student Affairs Administration at UW-La Crosse while working as the Graduate Assistant in the Gender & Sexuality Resource Center. While she loved school, she has happily completed her Ms.ED degree and is excited to work full-time in the GSRC this year and have time to read non-academic books.
Pronouns: She/Her/Hers
Picture this: Her photo was taken right downtown in The Castro where Kallie has spent time every summer for the past four years. Her hope is that through freaQweek, we not only bring education and celebration through film, but that we can bring back some of the Castro energy for each attendee to experience right here in Eau Claire.
Greetings! My name is Christopher Jorgenson, and I am the director of the Gender & Sexuality Resource Center at UW-Eau Claire, and Executive Director of the freaQweek immersion program. I am thrilled to unveil freaQweek to UW-Eau Claire and the greater Chippewa Valley this Fall 2019. freaQweek is a reflection of the incredible queer student engagement at UW-Eau Claire, and our 2019 student cohort is intellectually sharp, fabulously funny, and passionately dedicated to activism and advocacy.
During the last seven years, UW-Eau Claire has transformed itself into an LGBTQ+ destination, emerging from relative obscurity to a 5-Star Premier campus, the top ranking from Campus Pride (the nation's leading authority on college and university LGBTQ+ inclusion). UW-Eau Claire has also been ranked 3rd in the nation (College Choice 2018) and Best in State (for a second consecutive year) by Campus Pride and Best Colleges 2019. I have been affected by this transformation in innumerable ways, both personally and professionally. I came out at 19 years old in 1995 as a student at UW-Eau Claire, when the landscape was markedly more precarious for LGBTQ+ people. To play a part in affecting substantive campus change, toward ensuring LGBTQ+ students experience the best UW-Eau Claire has to offer, has been the highlight of my professional career. I feel lucky to work for an institution that has consistently embraced my vision and challenged itself to do better for all students.
freaQweek is an extension of the work UW-Eau Claire has done to foster an inclusive campus climate and culture. Amidst a robust weeklong program, attendees are afforded an opportunity to explore the kaleidoscopic array of queerness within our community and around the world, and are encouraged to examine the ways in which they reify or interrupt systemic power and oppression. Invoking "freak discourse" is intentional. We are wrenching away its problematic history and contemporary usage, forging it for ourselves. To be a freaQ is to reject others' definitions of our bodies and ourselves. To be a freaQ is to refashion oneself, courageously and defiantly, with an eye toward social justice, individual and community agency, and resilience.
Pronouns: He/Him/His
Picture this: San Francisco is bursting with color, and the streets are literal illustrations of the city's storied past and present. This photo features one of the countless murals coloring the urban palette of the Mission District.